---

Shopify Buy Button: Sell Products from any Website Online
---
Published on:
May 28, 2015
---
The Shopify introduced "buy now" button for any website in mid of May, a current calendar year. Chances that You may have an idea about Shopify, that it is a popular eCommerce platform to build online stores and for user-friendly features. However, this recent launched application is not only supports to Shopify online stores, but also other sites.
Check your Website's Purchase Process…
New Shopify 'buy button' is a good option for any site which is developed on other platforms like WordPress, Tumblr, Squarespace, and your own self-hosted website. If you want to start a business or want to sale several products online, then install this "Buy Button" to your website. If you haven't idea how to install this tool on your website, don't hesitate it is easy to update on your website like as a YouTube video embedded code. Once, you install this 'buy button' on your website since from then you start to sale from your own online store.
How It's look Once Add In Your Online Store…!
Once you install this tool on your website. You can easily customize products and sale online it, such as handmade shoes, T-shirt, juice and more. The buy button is fully responsive, so customer can easily confirm their order through the laptop, mobile and tablets. You just need to install the application in your website's sidebar, post, footer or anywhere in the website.
Application has excellent facilities to buy multiple products at once…
If you are selling a several items, add embedded shopping cart, so your customer buys multiple products at once.
Screenshot Of buy button: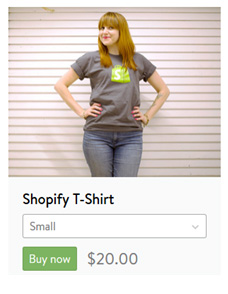 Shopify is allowing using the buy button in $9/month…
The 'buy button' is a good choice for them, who are not ready to start a fully featured online store now, or aim to sell only a few products at the store.
The Shopify allows you to use their eCommerce platform just in a $9/month through Shopify 'buy button' to sell product through your website. As a part of this plan you can also eligible to use other additional services such as app store, Shopify POS and 24/7 support. However, this application is free to Shopify website owners; they just need to add it to their account as a sales channel.
Let install 'Buy Button' and make your store more user friendly & sell from the internet. Have you added this button into your website or blog? Add it now & Keep selling.
Offices
Canada
Alberta
+1 (780) 800-5508
USA
Delaware
+1 (302) 467-2034
Canada
Alberta
+1 (780) 800-5508
USA
Delaware
+1 (302) 467-2034