---

Things to know before P2P Lending App Development or P2P Lending Platform Development
---
Published on:
September 17, 2020
---
Introduction
The way businesses functioned before technological evolution has in an irrevocable manner. New business models generating successful revenue have proved that technology holds the potential of disrupting any existing industry.
Such a revelation is being experienced by the financial service sector with the advent of Peer-to-Peer or P2P Lending platforms taking the light. Also known as the 'Social Lending App', P2P lending applications remove the middlemen (the bank) and give a platform to the investors and borrowers to connect directly.
Let's dive a bit deep into the subject.
What is P2P Lending App or Platform?
P2P lending is a direct lending platform on which investors can transfer funds and choose their investment options by examining the borrower's civil score and other financial statistics. Unlike banks that consume a large part of your interest, P2P lending reverts a healthy chunk of interest on your invested amount.
It helps the borrowers to avail money at a quicker pace while also serving the investors with high-interest returns. A win-win situation for both.
Borrowers who want instant loans
Borrowers who were declined by the bank.
Investors that want to generate a passive income
Investors who want higher returns on their investment.
The P2P lending business has flourished over the years. Countries like the US, UK, China, and Europe are major contributors to this crowdfunding industry. Let's scroll through some of the market statistics to get a better idea of the past, present, and future of this venture.
Statistics
In the year 2020, China has the highest cumulated transaction value i.e. 251, 878 million USD.
The global P2P lending market in the year:
2013: 3.5 billion USD
2014: 9 billion USD
The global P2P transaction value for the year 2020 is projected to reach a whopping 291,474 million USD.
The CAGR rate for the years 2020-24 is predicted to be 8 %. This growth will generate revenue worth 396, 875 million USD.
The P2P lending market in the US that was around 9 billion USD in the year 2014 generated 86 billion USD in 2018.
Associated Risks with P2P lending

The money lending business is always associated with risks. Many reasons contribute to this but let's have a look at the 4 major reasons linked with P2P lending.
Market disruption / Financial crises
The incapability of the borrower to return the money
The P2P platform goes broke
The preceding risks can also be minimized if one diversifies its investment into multiple loan investments. Using this one can diversify the:
Loan periods
Loan countries
Loan amount &
Loan originators
As the English saying goes "Don't put all your eggs in one basket" one can learn to invest wisely and diversely when investing large sums on P2P platforms. You might be pondering on what types of loans can be availed through P2P platforms. Here's the list.
Types of loans available through P2P lending app or P2P lending platform.
Medical loans
Business loans
Home loans
Auto loans
Student loans
Personal loans
The way any business earns revenue is always the primary concern for the Stakeholders. Let's understand the monetization process in brief.
P2P Lending App or P2P Lending Platform Business Model
Two business models can be used to create P2P applications.
The first one consists of three participants in the lending process i.e. the lender, the borrower, and the platform. The platform provides for the marketing, transactions, and debt collection for the lender and borrowers in return for a fee. This is known as traditional lending-based crowdfunding.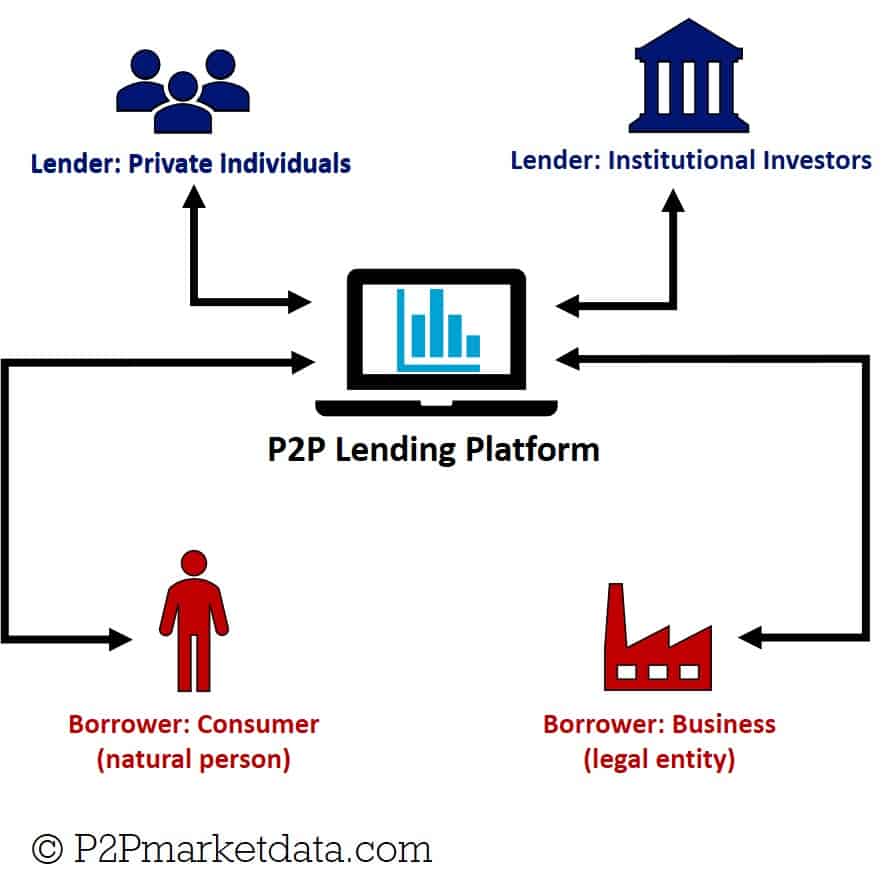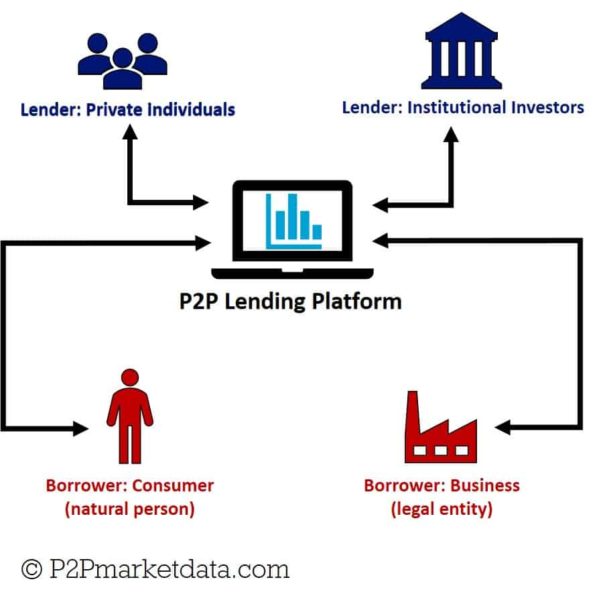 To understand the second model one would need to get familiar with the term 'Loan Originator'. A 'Loan Originator' is a non-bank institution that helps acquire borrowers using marketing.
Hence, the loan originators hold two primary responsibilities. The First would be to attract borrowers to their platform and the second, to navigate them to the closing table.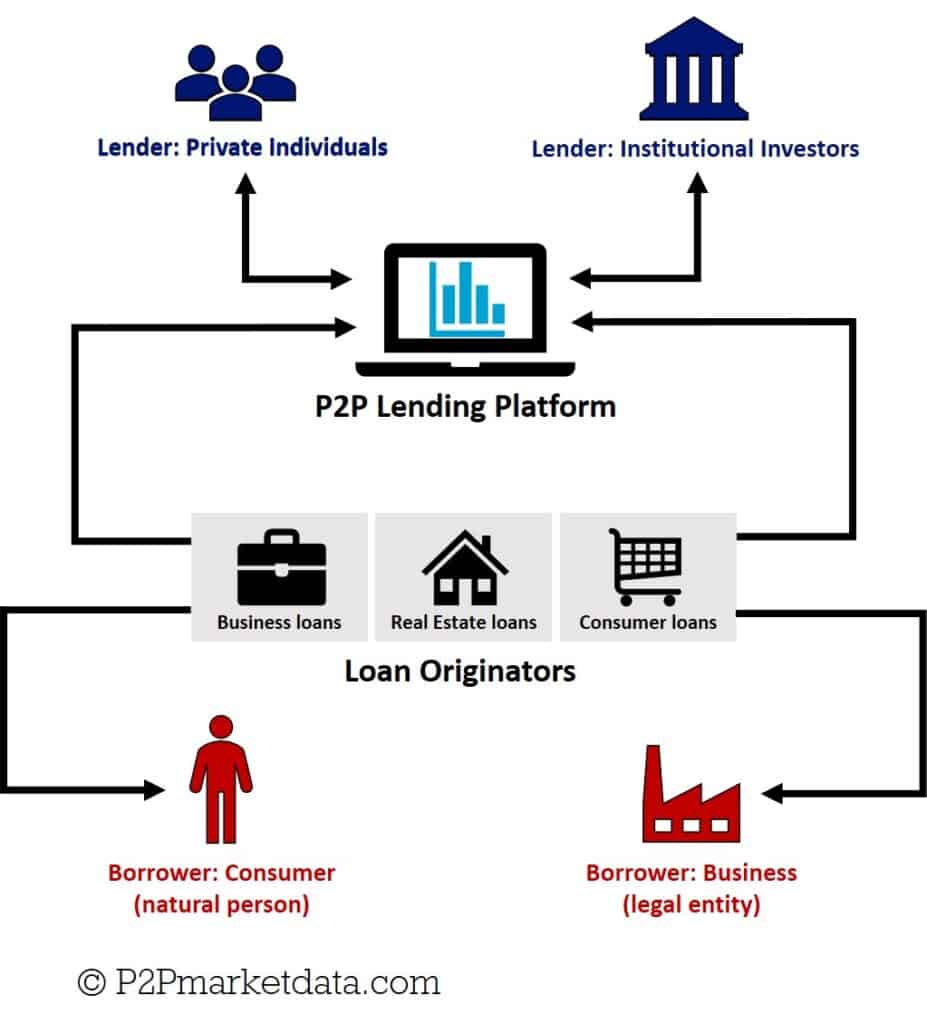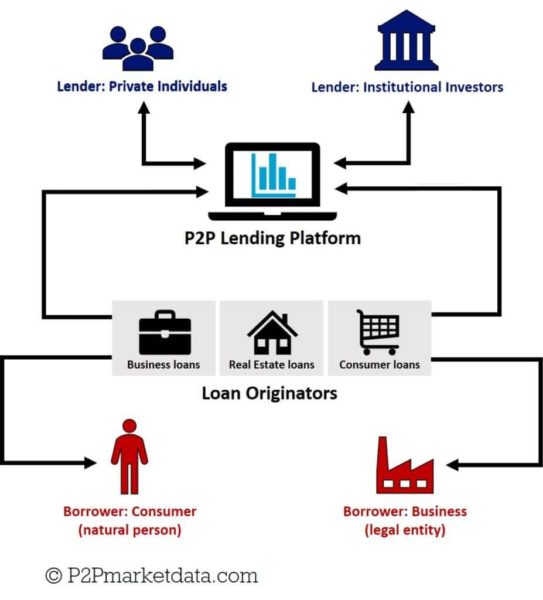 Learning how the P2P app generates revenue we should know which companies have already created successful P2P apps as of today.
Top 3 P2P Lending Apps
Prosper's the pioneer of P2P lending. It was founded in 2005, and ever since it has helped around a billion users with financial assistance. One can borrow an amount up to 40, 000 USD at interest rates starting as low as 7.95 %.
Prosper offers loans at an annual percentage rate (APR) ranging between 7.95%-35.99%. The platform is the best for borrowers with a healthy credit score i.e. any number exceeding 640 would work best.
Lending Club was founded in the year 2007 and found its niche in no time. Since the start, it has issued over 50 billion USD in loans by helping more than 3 million borrowers with each other.
Borrowers with a credit score above 600 can acquire loans up to 40, 000 USD at an APR ranging between 10.68 % – 35. 89%.
A group of Google members founded Upstart in 2012. Their motto is "you are more than your credit score". The company depends on its software that predicts "future prime borrowers" examining their employment and education history. Their inadequate credit score at the moment doesn't act as a hindrance while acquiring a loan for them.
This has helped the company provide borrowers with consumer loans worth 6.7 billion USD. Borrowers can get loans up to 50, 000 USD at interest rates as low as 7.35 %. The APR ranges somewhere between 7.35 % – 35.99 %. The minimum recommended credit score would be anything above 620.
Having learned about the established P2P platforms it's time to switch our focus on how to go about building one.
To build a web or mobile application one must visualize the path they will follow to reach their desired goal. This is known as the product roadmap. There are many ways to go about this but Technource follows the Agile-Scrum Framework.
How does Scrum work?
Scrum propels development in ascending order. It is familiar with the idea that it isn't possible to know everything when one starts a project. This helps everyone adapt to changing user requirements and market conditions with ease.
Development using Scrum is carried in short iterative cycles. This helps deliver tangible results, reprioritize, and improve continuously. You can learn about our detailed Agile-Scrum development process over here. (Add CTA)
Why collaborate with Technource for P2P Lending App Development?
We have developed websites like Hommati and Western Suburban Realtor. Technource also provides our services in developing Industry 4.0 solutions using Artificial Intelligence, Augmented Reality, and the Internet of things.
We have also developed successful native apps for Android and iOS users like Tokkhub, PlayPal, and Tuitment.
What works best for our clients are our cost-effective rates and our flexible product development options. We provide our IT services from the sub-continent of India. This allows us to function at a low hourly rate of 25 USD – 50 USD as compared to other regions like the US, and Europe.
We also recommend creating an MVP in the initial development phase. This allows our client to catch a glimpse of how we go about developing applications. Other than this making an MVP helps keep a budget check and gives the client a chance to deploy the core app to its niche. This results in building trust among our clients while also allowing Stakeholders to gather valuable data on how users respond to their online services.
The peer-to-peer lending market is predicted to receive a high revenue return in the years to come. If you hold the business idea that can disrupt the current structure we would like to be a part of this exciting venture. Feel free to hit our doorbell anytime. Let's dash!
Offices
USA
Delaware
+1 (302) 319-9825
Canada
Alberta
support@technource.com
USA
Delaware
+1 (302) 319-9825