---

How To Grow Your Cannabis Business By Developing a Leafly Clone App?
---
Published on:
March 27, 2021
---
Introduction:
The world is experiencing a high like never before. With the legalization of Cannabis consumption for medical and recreational purposes in countries such as Canada and the US, there has been an evident increase in business opportunities for marijuana and related products. Here you will learn how the Leafly clone app can help you grow your Cannabis business.
Thanks to
on-demand app development services
, consumers all over the world have grown prone to availing services at their convenience. Developing an on-demand Leafly clone app can be a potential business opportunity awaiting exploration.
This blog offers you all the essentials that you need to know for creating a cannabis home delivery app. Read on till the end to know more about the monetization techniques, business model, and internal workings of a marijuana delivery app.
Cannabis Marketplace: Overview
The consumption of cannabis has turned mainstream in the past 5 years. Legally or illegally, the sales of recreational and medical marijuana are generating high revenue streams. In the year 2015, sales of legal marijuana in the US reached a whopping 23 billion USD. In addition to this, the combined illegal and legal sales of marijuana in California reached 5.6 billion USD. 13,000 different locations are running their business through the contribution of 18,000 companies offering cannabis and related services and products.
Observing the current statistics, the tax revenue generated by marijuana is predicted to reach 1.19 billion USD between the years 2017 and 2020. The surge in the revenue generated by the cannabis industry was observed in 2016 when the sales reached 477.96 million USD. The market valuation of the global traditional market of marijuana was 17.7 billion USD in 2019 with an expected annual growth rate of 18.1%.
Medical marijuana can be used to provide relief in various treatments such as cancer, arthritis, epilepsy, Parkinson's, Alzheimer's, depression, and anxiety. The evident growth in the sales of marijuana is a result of the legalization of marijuana in several countries merged with the new on-demand economy. Cannabis delivery apps such as Leafly have made the best of it and have created the trend of getting your preferred marijuana delivered at your doorsteps.
Let's have Leafly's approach to selling cannabis.
What is Leafly?
Leafly is an online cannabis ordering platform catering to medical and recreational purposes. The company was founded by Scott Vickers, Cy Scott, and Brian Wansolich in the year 2010. Soon the company was sold to Privateer Holdings, a cannabis investment firm. In a time span of ten years, the company has created the largest online portal to get all the essential information related to cannabis and get it delivered to its place.
What does Leafly Offer?
Leafly is undoubtedly one of the largest marijuana platforms globally. The platform has about 15 million monthly visitors and 40 million page visits combining the web and mobile apps. The app has gained such huge recognition because it allows its consumers to review and rate different strains of cannabis and marijuana dispensaries. The experienced recreational users and patients can also rate and reviews the experiences offered by different cannabis products. Using the app one can track the nearest dispensaries and get their product delivered to their doorsteps.
If you observe the growth of Leafly, the platform had about 2.3 million visitors and 50, 000 mobile app downloads per month in the year 2012. As the company grew in popularity by 2016 the platform announced that it had approximately 6 million monthly visitors and 31 million page views on its mobile and web apps. Leafly was the first company to advertise itself in the New York Times.
Leafly launched its compliant platform named,
www.leafly.ca
. in Canada on 17th October 2018. The company also collaborated with Spiritleap as its decisive partner to promote its business expansion of the Pickup Tool in Canada.
Leafly: Business Model
Based out of Seattle, Washington, Leafly has created a huge business from selling marijuana in such a short period. The popularity of the platform has reached such heights that many cannabis dispensaries are desperate to become a part of Leafly.
Let's explore some of the niche services offered by Leafly. You should also include these services in the Leafly clone app.
Choosing from Numerous Strains:
There are numerous strains of the marijuana plant that offer different experiences to users. Weed enthusiasts and patients can choose from numerous cannabis strains as per the experience they seek, i.e to treat anxiety, nausea, or depression or to enhance creativity or euphoria. To help distinguish between different strains such as Sativa, Indica, or Hybrid, the strains are color-coded in a periodic table format.
Locating Nearby Dispensaries:
As you feed your address, zip code, state, or city name, the app would enlist all the available dispensaries. You can filter the ones near your home and buy the product physically. The dispensaries are also located on Google Maps to add convenience to your buying process.
Reviews:
As numerous marijuana strains are offered by different dispensaries, it becomes difficult to decide the most suitable strain for a user. To overcome this dilemma, Leafly allows you to rate and review the dispensaries or strains that you've tried. A consumer can rate the product based on their experience and service.
Leafly: Revenue Model
The medical and recreational marijuana business is approximated at 2.7 billion USD by 2023. The factors driving such a humongous business growth are increased internet and smartphone use backed by efficient eCommerce solutions.
There are four ways through which apps like Leafly generate revenue:
Delivery Fees
Registration Charges
Advertisements
Commission
The platform generates huge revenue by listing packages to businesses associated with the cannabis industry and by selling online display advertising. The platform uses the cost-per-impression model for its display advertising campaigns.
Why choose us to build the Leafly clone app?
The wave of change has hit the world. What was once considered taboo has become a trend and it is creating successful businesses from the same. The above-observed statistics display a promising story of the future of the medical and recreational marijuana business. If you are looking for a new business opportunity to explore then the on-demand marijuana delivery business is just on the rise.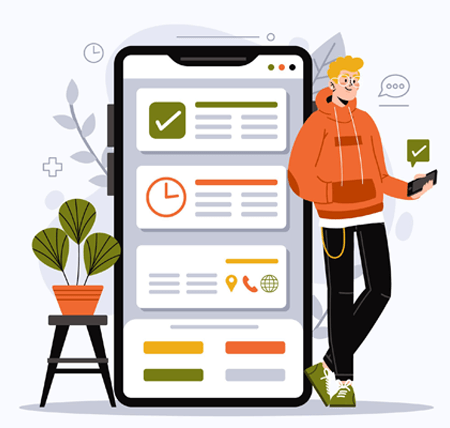 The business holds less competition with huge upside potential and minimal risks. Once you find your target country, niche, and an experienced
professional IT service company
to take care of the technical aspects of your business, you're good to go.
Technource is an experienced batch of tech enthusiasts looking forward to collaborating with entrepreneurs and ideas with futuristic business potential. We have created several on-demand clones and apps (both web and mobile) for our clients across the globe. We look forward to hearing from you and exchanging exciting business ideas. You can get in touch by signing up for a free business consultation from our website. Thank you for reading!
Offices
USA
Delaware
+1 (302) 319-9825
Canada
Alberta
support@technource.com
USA
Delaware
+1 (302) 319-9825