---

How Much Does it Cost to Develop an App like Pinterest?
---
Published on:
May 20, 2021
---
Introduction:
Social apps have been the highlight of the past decade where apps like Pinterest, Twitter, Facebook, and Instagram have firmed their grip on the masses. An app like Pinterest is the most peculiar of the preceding as it has received astounding success even with the absence of interactivity.
Pinterest has become the go-to platform for sharing and viewing content like images and videos that align with one's hobbies and interests. We – Technource, a mobile app development company bring you this blog that covers in brief:
What is Pinterest?
How to develop a Pinterest-like App?
Features of Pinterest App?
How much does it cost to develop an app similar to Pinterest?
Let's start with the basics.
What is Pinterest?
Pinterest is an online website that is a giant 'Catalogue of Ideas' or 'Photo Library' that allows its users to browse photos and videos of their interest, arrange them in thematic folders, subscribe to other user's folders, and share the same on social media platforms such as Facebook or Twitter.
History:
It was in the year 2009, that Paul Sciarra, Evan Sharp, and Ben Silbermann gave birth to this product. In March 2010 that the product was released as a closed beta. It didn't take long when in August 2011, Pinterest was coined under "50 best websites of 2011" by Time magazine.
The platform received an overwhelming response and secured 27 million USD in October 2011.
By December 2011, the site was among the top 10 social networks and was getting 11 million hits per week. The website was so engaging that according to one of the ComScore's reports in January 2012 Pinterest had 11.7 unique users making it the fastest website to cross the 10 million unique visitors mark. And as per a survey, Pinterest currently has 478 million monthly active users.
Statistics:
6 out of 10 Pinterest users are female. Women also account for a higher pin rate as they feel more emotionally connected and use the same for aspirational and motivational purposes.
In 2020, there was a year-over-year 40% increase in male pinners.
97% of the search queries conducted on the platform are not related to any particular brand.
Most consumers seek home decor/design inspirations on Pinterest followed by searches in ideas for clothing, style, and beauty.
More than 77% or 3 out of 4 of weekly pinners have discovered unique brands or products on Pinterest.
The platform performs more than 2 billion searches every month.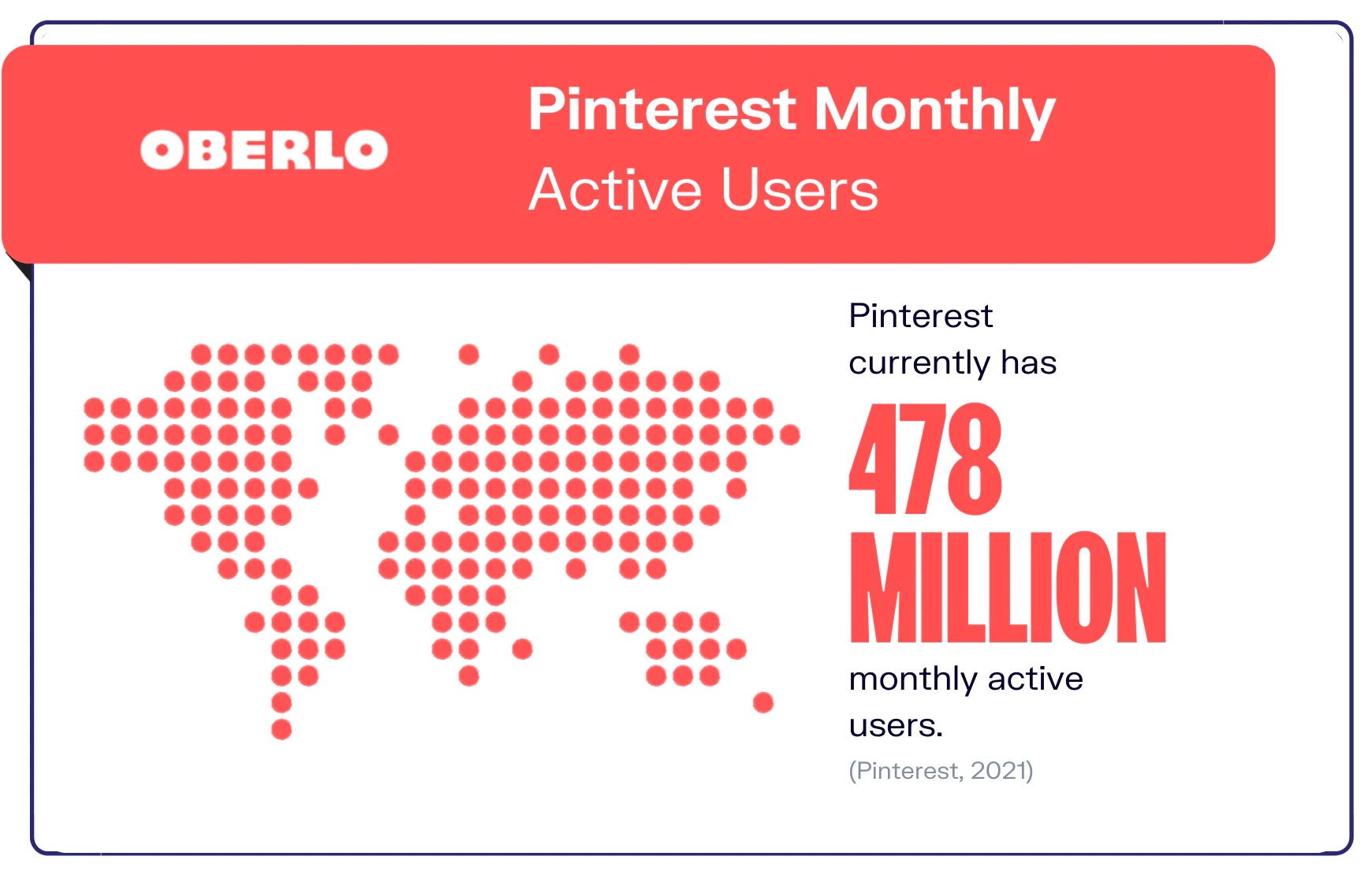 Source
What is Pinterest App?
Pinterest is a media platform that allows its users to share media related to services, goods, projects, and help them explore new interests. It offers structured organization and can also be considered as a web-powered bulletin board. Users can mark different boards on their profiles where they can pin different images that they find on the web or on the platform.
Essential Features to Develop an App like Pinterest?
Sharing and saving new ideas is the sole purpose around which the platform has been designed. Here is a list of must-haves or essential features that will affect the cost of your app.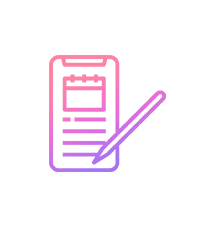 Registration/ Login Account:
This is the most traditional feature of almost any app in the market today. Pinterest too offers this feature of logging in and creating an account. To make the process a rapid one Pinterest offers to log in through social media accounts.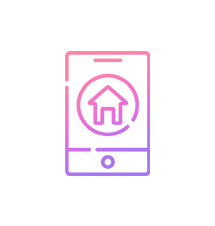 Home Screen:
The home screen of Pinterest is filled with media that a user can pin or choose or scroll through. The home screen uses Artificial Intelligence to personalize your feed. The platform will suggest pins on the basis of the interest you show on the feed.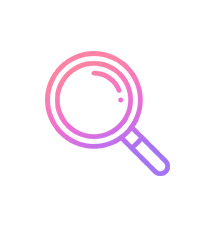 Search:
Users make use of this feature to search the pins related to their interests or needs. A lot of effort has been laid by Pinterest to make the search experience advanced and accurate.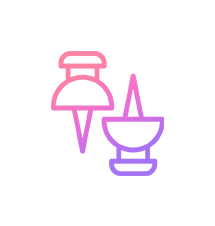 Share/Save Pin:
This is one of the defining features of the application. When a user chooses a particular pin they're provided with two options:
Share it with their friends on different mediums.
Put a pin on their personal board.
This is how the platform fosters user engagement.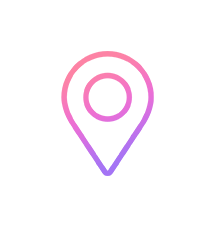 Initiate/Modify Pins:
Board and Pin are the two options that are offered by Pinterest to its users when it comes to creation.
You can upload a media file from the gallery or click a fresh one from the camera and initiate a pin. The other option would be to create a board where you can add multiple pins related to the subject you want to post on.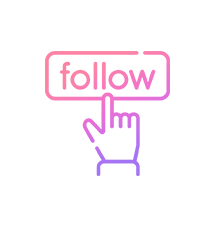 Follow:
Using this feature you can learn all the fellow users or pages that you're following. It also offers you recommendations based on the current users that you're following.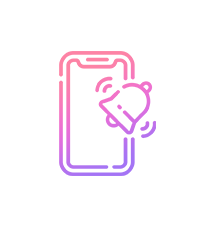 Push Notifications:
Push notifications are a part of the engagement strategy used by most apps. They try to re-engage a user by sending them notifications related to their boards and the new additions that they've shown interest in.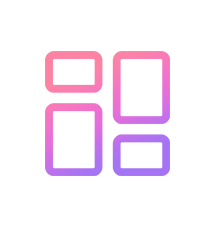 Dashboard:
This is the user profile that is denoted under the 'Saved' tag. One can find the users they are following and being followed by, also the pins and boards that they've saved and created. The platform also offers a 'Sort' feature that allows them to sort their boards created as per time or in alphabetical order.

Advanced Features of Pinterest App:
The preceding were the main features of a website similar to Pinterest. But if you want to offer your, clients, something more than having a few of the advanced features is a must.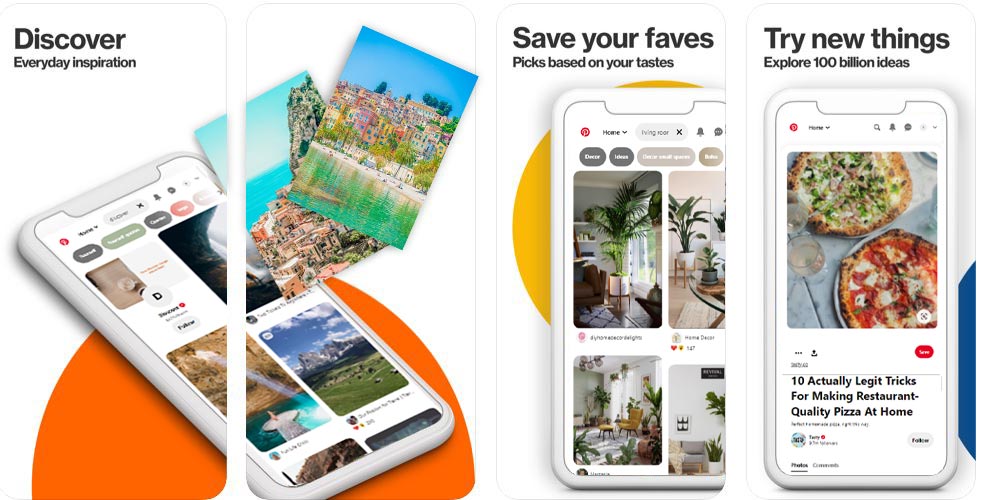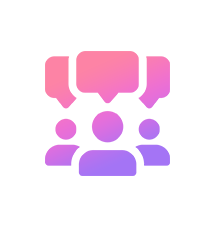 Group Boards:
What if you have a group of friends or colleagues and you wish to work on a project. To do this the platform must offer a feature where you can create a board and invite your friends and colleagues to collaborate on the same.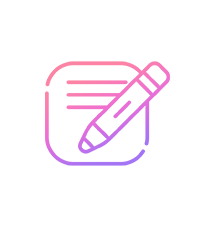 Reactions to Post:
Using this functionality, a user can show their reactions through emoticons.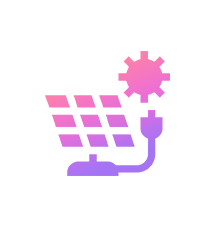 Communication Panel:
This is a truly advanced feature for an app like Pinterest where you can send in-app messages to fellow users of the app.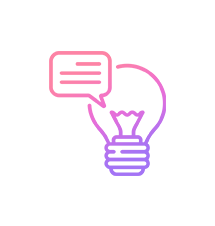 Advanced Search/ Suggestions:
The algorithm of the app tries to figure out your search and offers you related searches to your primary search term. If at times the user doesn't know the necessary keyword to search what they want to. In such a condition the advanced search feature can offer related suggestions.
Factors Affecting Cost of an App like Pinterest:
There are many factors that affect the overall costing while developing a site like Pinterest. Starting from design to launch there is a list of services that impact the cost range of app development.
Here's a list of the prime factors that impact the app's costing.
Platform:
The number of platforms you choose to develop an app for is directly proportional to its costing. You can choose to create an Android or iOS app using native or hybrid technologies. Native techs always cost more than cross-platform apps. The reason behind the same is that hybrid apps consist of a single code base while native apps have dedicated code bases.
You would be surprised to know that a Pinterest clone can also be accessed as a progressive web application and a website. To develop a replica to Pinterest you will have to build 4 versions of the app.
We recommend all our clients opt for MVP development to validate their idea. If they receive a healthy response from their consumers then they can surely invest in developing an app for multiple platforms.
It is better to hire an iPhone app developer or hire an Android app developer after you've tested your product in the market. If you're on a budget check and want to minimize the development time you can choose cross-platform app development. React Native and Flutter are the most booming hybrid techs for you to choose from.
Here's a tentative price list for all the above-mentioned platforms.
Android App Development Cost: 10,000 USD to 60,000 USD
iPhone App Development Cost: 8,000 USD – 50,000 USD
Cross-Platform App Development Cost: 10,000 USD – 40,000 USD
Website Development Cost: 5,000 USD – 35,000 USD

Frontend & Backend Development:
The major time invested by developers is while developing a front and backend. The cost of the same is higher than other areas of app development such as design, marketing, or quality check. We have to break down the development process to understand the same.
App development companies charge on an hourly basis. Hence, the time taken to code the back and frontend efficiently is more, which directly affects the costing. And in between the two developing a sturdy backend is more time-consuming as compared to the frontend.
App Complexity:
Your app's complexity is a huge contributor to its overall cost. If you observe, we share two lists of features essential for a Pinterest-like app i.e. must-have or essential features and advanced features. The number of features you choose and the complexity they hold will differentiate between a 10,000 USD app to a 60,000 USD app.
Our experts have classified Pinterest as a mid to high-complexity app. But your business model and features can surely add to the complexity and price
Development Team:
The size of your development team that builds your application is also something that affects Pinterest like app development cost. A basic team to create an app like Pinterest must have the following members.
Team Lead
2 Client-Side Developers
2 Server-Side Developers
Project Manager
1 Quality Assurance Engineer
2 UI/UX Designers
Projects with higher complexity and features require a larger team. This also affects the cost of a project.
Region for App Development:
Different regions have varied hourly costs for developing an application. The IT service sector is huge and spread all around the globe. If you wish to hire an IT service company their charges will highly depend on their locations. A company based in UK, USA, or Australia will surely charge a lot more than Eastern nations like India.
The hourly cost range can have a difference as high as 50 USD – 100 USD. Hence, it's extremely important that you choose your app development company wisely.
Wrapping Up:
Here's an end to this blog. We hope our blog shared the information we committed to offering at the start of the blog. Here's a quick recap of the topics we covered in this blog.

Recap:
History, Statistics, and insight into Pinterest app.
Essential and advanced features of a Pinterest-like app.
Factors that add to the cost of apps similar to Pinterest.
Technource is a web and mobile app development company that offers services from the subcontinent of India. Serving the IT service sector for more than 9 years, we have worked on many projects that have made us experts in this industry.
We have a dedicated team of designers, developers, QAs, content specialists, and project managers. Our team members are always enthusiastic to take on new projects that challenge their current level of knowledge and perception.
The social media app world is gradually reaching saturation and hence it's best advisable to invest in the same as soon as possible. We would be happy to assist you with the same and help you transform your dream into reality. Get in touch with us by giving us a call or by signing up for a free consultation form on our website. Thank you for reading.
Offices
Canada
Alberta
+1 (780) 800-5508
USA
Delaware
+1 (302) 467-2034
Canada
Alberta
+1 (780) 800-5508
USA
Delaware
+1 (302) 467-2034