---

MVP App Development – How to Validate your Dream App Idea by Developing an MVP?
---
Published on:
October 12, 2020
---
How to Validate your Dream App Idea via MVP App Development?
How often do you get a business idea that is groundbreaking? Hence, when you get enlightened by one you must follow the right
mobile app development
practices to transform your dream business idea into a monetized app. Here we will talk about MVP app development.
It's crucial to validate your business idea. You can think of it as fuel to your car. The better the quality of fuel, the smoother will be the riding experience. This blog brings you insights on how to validate your dream app idea and go about creating an MVP for the same.
How to Validate Your MVP App Idea?
Here's a list of some of the prominent things one should pick their brains with to validate their app idea.
What's the point of cooking Turkey for a bunch of vegetarian guys? It's not that Turkey isn't tasty, it's the crowd that is not interested in consuming the product you're trying to sell. Hence, it's imperative to research if there is a consumer who has a problem and you're providing them with a solution that is also in congruence with their expectations.
Furthering the Turkey example, we can also learn that offering Turkey to a bunch of guys who want to eat Chicken, is also an inefficient way of doing business. So, it becomes increasingly important to know what your niche expects from the type of service you're trying to provide.
Analyzing your Competition
As you learn what issues your crowd is facing, you can invest in finding viable solutions for the same. But before you invest everything you have, it's wise to study your competitors. Are they trying to find the same solutions? If yes, then how far ahead are they? Is their solution more feasible than yours? Is your solution cost-effective and monetizable?
Another way to examine your already existing competition is to look into similar apps on the Android and iOS app stores. They'd offer you the designs and features that your competitors have already inculcated in their apps, help you understand the bugs or inconsistencies in user flow, and break many other notions you have.
Create an MVP
MVP is the abbreviation for Minimal Viable Product, which offers a fully functional model of your app with its core features. Your MVP would focus on the core problems that your users have and deploy a soft launch to test the waters. That'll save you heaps of cash.
Your MVP will be the final version of your app, but it won't have all the features that you're planning to offer. You can deploy your MVP on all the online markets that can assist in sharing your application with your targeted niche.
Promotional Strategies & SEO
Your aim with your app should be earning the highest rating on Google's search engine from the go. This feat can be achieved by integrating rightful SEO practices in your app. Using keywords and phrases that have a higher search metric is the most simplistic way of getting your SEO right. But, SEO is an investment that yields favorable results when invested rightfully and timely.
Your responsibility doesn't end with creating the app, now lies the real challenge. Your challenge would be to incept a resilient idea into your user's mind that the services your app offers are more reliable and convenient than the current services they're using. Once you convince a client to leave their current service provider and try your app, you've won the battle. But you'd win the war if you allocate dedicated resources in the below-mentioned sector of app development.
The design of your app plays a pivotal role in generating user engagement. For example, you can try the app Miranda designed by Apple that offers time zone conversion. The design of the app is so intriguing that it'd make you fall in love with the concept of designs. The UI/UX of your app would force a user to spare extra screen time.
So, if you do all the preceding tasks rightfully but your niche fails to connect with the design of your app, all your hard work can practically go to waste. Hence, validating the design and UI/UX of your app is as necessary as any of the other things mentioned above.
If you want to gain a deeper understanding of how having an engaging UI/UX can increase your app's revenue, you can try our blog "How Enhancing your UI/UX can Surge Revenue".
We learned above that MVP development can help you reach your niche with minimum but most evident
features of your MVP app
. Let's find out how!
Imagine MVP as limited demo cars that a car company releases to test how they function under realistic situations. You mustn't fall for the misguided notion that MVPs represent an unfinished product. On the contrary, MVP helps you meticulously prepare the final product.
Let's visualize this concept better by diving a little deeper.
'Minimum' means a product that represents the most basic functionalities that run the app. 'Viable' is the product that the developer creates with the help of available resources.
Hence, MVP becomes a product that has all the features but is built using minimal resources. The MVP would also generate honest feedback that can be used to inculcate changes for the final product.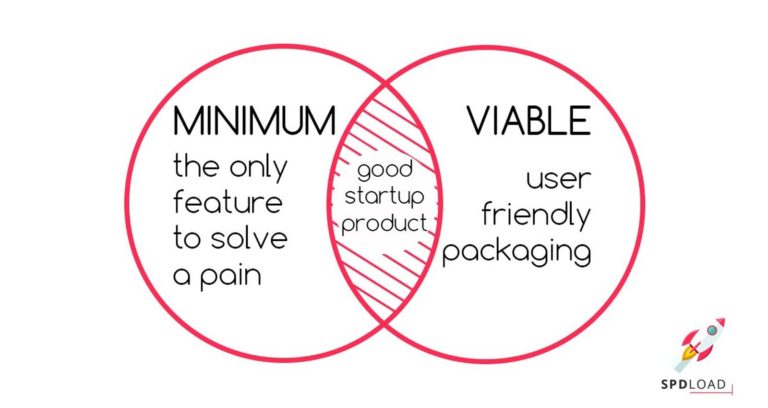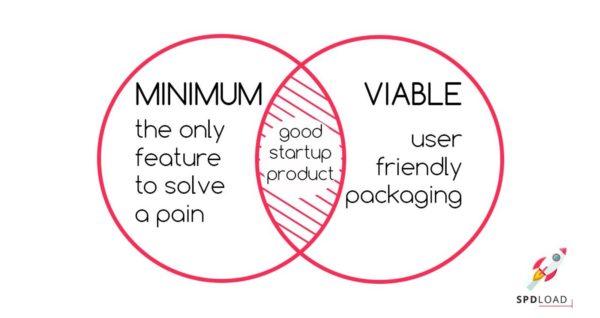 A wide myth circling the MVP is such that an MVP helps the Stakeholders learn if the built app is technically functional or not. But in actuality, an MVP helps the Stakeholders get a clear analogy on, if the product should be built or not be built at all?
The question that arises here is why built an MVP in the first place and not opt for creating a fully functional app.
Why Does your Product need an MVP?
Who'd have imagined 10 years ago that Twitter, Instagram, or Uber would form a daily part of our lives? Yes, the transition has taken some time but now it has planted deep roots with its target niche. So, why is it important for you to develop an MVP?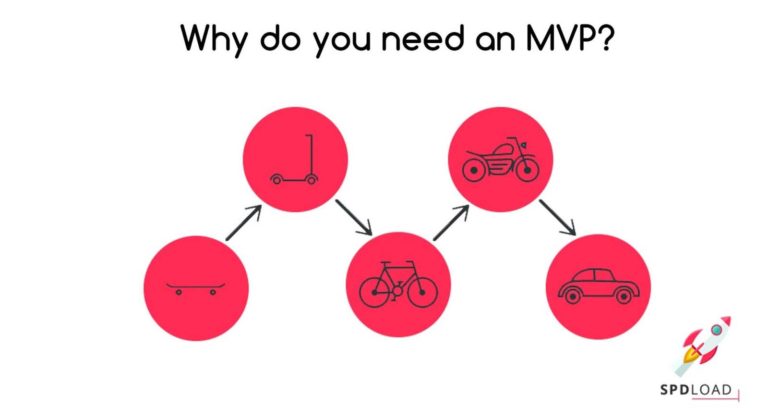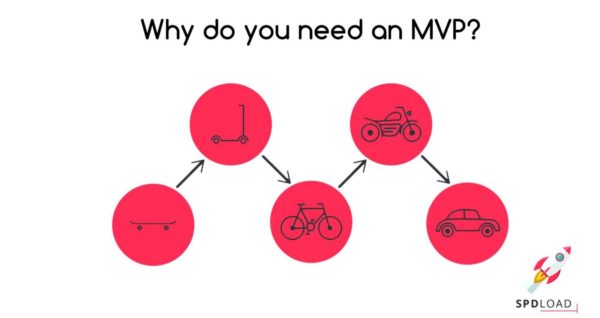 Creates Loyal Customer Base for Final Product
As it is extremely costly for start-ups to spend money on ads an MVP helps you get out there in the market. MVP is a way to get to your first core customer base who would study your app and suggest it to their friends if they find it worth their time and attention. This is how things go viral in the world of the internet. Also, if you provide them with decent services there lies a high probability of them being your first monetized customer base.
Building a fully functional app is like going shopping online. The more products (or in our case features we add to the app), the costlier the cart will get. An MVP is built using minimal resources but is still your product. Developing an MVP from a Professional IT Service Provider (CTA) could cost you anywhere between 10, 000 to 20, 000 USD or less depending on the features you add.
Generates Honest Feedback
Your users might already be waiting for a product like yours. In such a situation, you'll easily find a customer base that will provide you with honest feedback. This can help you add or subtract certain features in your final product. Honest feedback can at times help you learn the differences that lie between what you want to offer in your app or as a service and what the user wants.
It's quite possible that your MVP catches the attention of investors who find potential in your business model and are willing to invest in your idea. Your MVP can offer just the necessary insights into your app and how it could disrupt the existing market.
It gives your business an upper hand as you have a tangible product at your hand rather than just an idea to pitch to investors. It increases your chances of getting heard or noticed.
There are many successful applications that started their venture with an MVP and observed astounding success in the coming years. Let's learn in brief about who they are and how they carved a permanent place in their user's day-to-day lives.
Apps that Started-Off with an MVP
In the initial years, Instagram was just photos with limited filters stored on their device or in the app albums. Users resonated with their idea of sharing photos of what they're up to in their routine lives or if they were on a holiday. As of June 2018, Instagram had reached a whopping billion followers.
Instagram now offers its users features like tagging, story, videos, geolocation, and integration with other social networking applications.
The networking giant started off as 'TheFacebook' that was designed to help college grads interact with their fellow batchmates. Facebook allowed its users to post messages to boards, post pictures, share their personal information like phone numbers, emails, relationship status, etc.
They aimed to bring the whole social networking experience online and the idea stuck like glue with their users. Ever since then, Facebook has included such important features as promoting businesses, and an ad-based revenue model and is the biggest social networking channel on Earth.
Today Amazon provides multiple services like cloud computing, whole food grocery sale, subscription services, and much more. It also offers its own electronic devices like Amazon Kindle and Amazon Echo.
But in the 90s when Jeff Bezos started off with his venture he included a few conventional items that can be sold which included books, CDs, and computer hardware and software.
Once it so happened that a customer ordered a book, Bezos purchased it from a distributor and shipped it. Today, Amazon happens to be one of the largest retailers in the whole world. This proves that it isn't necessary for you to start big. Eventual learning and persistent efforts can always help you reach unfathomable heights.
Living in a lofty apartment one day Brian Chesky and Joe Gebbia decided to help provide accommodation to people visiting San Francisco. They built a basic website, uploaded a few photos of their place, and the business was up and running. Today, Airbnb earns a healthy revenue of 2.6 Billion USD per year.
Technource Expertise in MVP App Development
Having served 500+ clients all over the globe in the past decade, Technource has received numerous opportunities for creating MVPs. The journey that has now helped us reach a reputable position in the IT service market also started off on a small scale. So, it would be fair to say that we understand a client's necessities in terms of the budget constraints one can have. We believe it's extremely important for any business to use their funds wisely in their formative years. A dead investment can ruin the plans you've made for your business's future.
Apart from a budget-friendly service, our clients get to hire some of our brightest minds in the mobile app development world. Individuals, with experience that are backed by substantial knowledge that they've nurtured over the years.
A good start to your dream app projects needs a reliable team that delivers evident results over a disciplined timeline. We hold the trust of our 100+ clients who've trusted us and helped us develop expertise in the mobile and web development domain.
Do you have an interesting app idea? If yes, then feel free to ping us anytime.
Offices
USA
Delaware
+1 (302) 319-9825
Canada
Alberta
support@technource.com
USA
Delaware
+1 (302) 319-9825