---

Magento vs Shopify vs WooCommerce: Best Suitable Platform for eCommerce Development
---
Published on:
May 28, 2021
Updated on:
July 27, 2023
---
Introduction:
With the exponential rise in the number of eCommerce websites all around the globe, there has also been an evident rise in eCommerce development platforms. But out of many Magento, Shopify, and WooCommerce are the ones ruling the industry right now. Magento, Shopify, and WooCommerce together contribute to powering 9%, 20%, and 25% of the top million eCommerce websites. So, we decided to bring you the ultimate showdown: Magento vs Shopify vs WooCommerce.
If you search for the same on a search engine you will probably get tons of results but in the end, it always boils down to the eCommerce platform that best suits your needs. This blog offers you the essentials of each to help ease your decision on what's the best platform for your business. We hope this read gives you the required ammunition to assist you in laying the perfect foundation for your business.
Let's begin with some facts.
Statistics:
By the end of 2021, eCommerce revenue is predicted to reach 2,723, 991 million USD.
The CAGR between the period 2021-2025 is projected to be 6.29%, resulting in a market volume of 3,477,296 million USD by 2025.
Fashion being the largest sales segment will generate a market volume of 759,466 million USD in 2021.
By 2025 the total amount of eCommerce users will amount to 4,913.9 million.
The ARPU i.e. average revenue per user will amount to 714.11 USD.
The user penetration rate will be 50.8% in 2021 and will reach 63.1% by the end of 2025.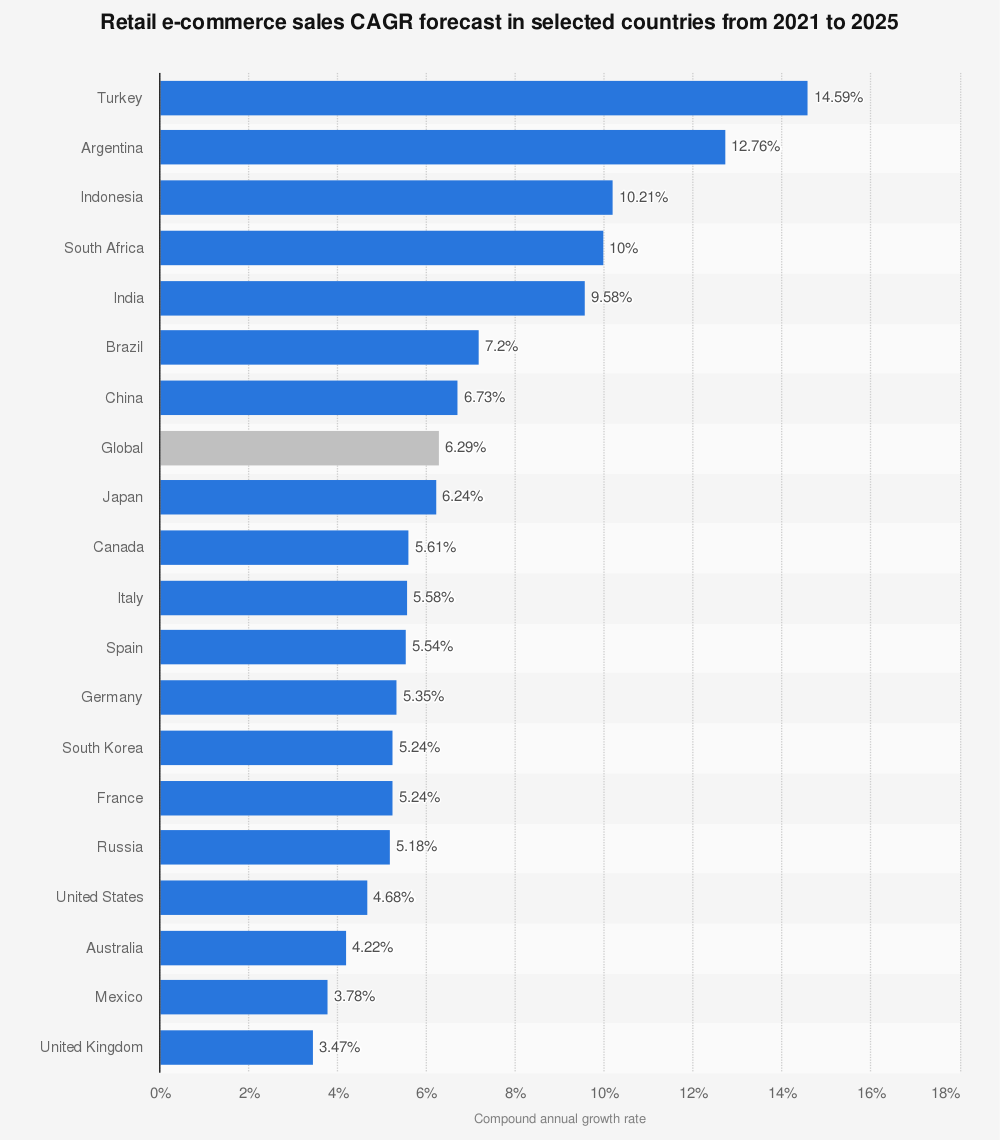 Source
Now that we know what to expect from the future. Let's start with a basic overview of the three platforms.
Overview: Magento
Magento CMS made its way to the market in the year 2008. The platform has had many transitions since then until it was finally bought by Adobe in 2018. The platform's popularity grew over time and it empowers more than 700, 000 websites around the globe. Some well-known business brands such as Olympus, Time Out, and 20th Century Fox use Magento to conduct their online business.
Magento offers numerous conveniences in form of built-in functions. They allow you to easily create detailed reports, apply discounts and add coupons, change currencies and languages, permit shoppers to rate and review items, and more.
Magento is open-source software that provides a wide range of templates and extensions. You can even extend its functionality by making changes in the PHP or HTML code. It supports managing and creating multiple stores keeping one admin panel while you can also assign different roles to managers, developers, copywriters, and more if several individuals manage your online store.
Pros of Using Magento:
Huge developer and user community.
Myriad built-in features and themes.?
Doesn't require coding knowledge.
Many available extensions to choose from.
Cons of Using Magento:
Setting it up is time-consuming and complicated.
Many additional costs to set up your shop.
Due to its large size, it's suggested that you use a dedicated server.
The Magento Commerce solution will only receive exclusive support.
Overview: Shopify
It was in the year 2004, that three friends Daniel Weinand, Scott Lake, and Tobias Lütke decided to sell snowboarding equipment online. Unsatisfied by the existing eCommerce platforms, Lütke a computer programmer took it upon himself to build an eCommerce platform on their own. It took two months for him to develop and launch Snowdevil.
Later in 2006, the platform that hosted Snowdevil was launched by the name Shopify. Shopify was the type of platform that its founders wanted when they created Snowdevil. Shopify quickly evolves as an eCommerce platform and they created their application programming interface (API) in 2009. Years passed by and Shopify's recognition grew exponentially. Amazon recommended Shopify as their 'preferred migration provider' when they shut their website that hosted merchant services.
With Shopify, you can set up a functional eCommerce store as quickly as 15 minutes. The platform offers subscription-based services. Their basic plan starts from 29 USD per month. In addition to this, the platform offers services like unlimited file storage, 24*7 support, two admin accounts, limitless merchandise creation, and much more.
Shopify offers a plethora of extensions and one-click integration with Google Analytics. The platform offers perfect custom solutions for small businesses. There are many different options that you can exercise other than creating an online hypermarket. For example, you can get access to your consumers via online channels such as Tumblr, Twitter, and Facebook using Shopify Lite. Here Facebook Messenger can be used as a means for purchasing products.
Pros of Using Shopify:
Easy to purchase a custom domain name and set up a store.
Easy integrations with WordPress blogs and social media.
24*7 support
App store with numerous apps.
Cons of Using Shopify:
Charges a transaction fee on making a sale.
The non-optimal URL structure for SEO.
Overview: WooCommerce
WooCommerce is the eCommerce plugin for WordPress. The most commonly used platform that is known to instantly boost your sales is WooCommerce. If you already have a WordPress blog and want to sell something, WooCommerce is the way to go about it. A platform that is already being trusted by more than 5 million websites.
Being an Open-Source platform, WooCommerce offers many options to buy customized themes for your store. To make your website work more efficiently you can also try some commercial extensions.
The built-in features allow you to sell virtual, physical, and affiliated goods. Along with this, you can exercise features such as SEO optimization, Google analytics integration, tax calculation, shipping, Ajax shopping cart, geolocation support, and responsive design.
There is a range of paid WooCommerce plugins that offer advanced features such as quick browsing, payment gateways, product listing, product comparison, pop-up notifications, and more. It also gives you the option to list your items on eBay, upload your WooCommerce products on Amazon, and leverage Shopify's Buy now button to make the best of both platforms.
Pros of Using WooCommerce:
Best suitable for large-scale online businesses that seek advanced features.
Supports store administrator and customer accounts.
A plethora of paid and free WooCommerce themes.
Customizable
Cons of Using WooCommerce:
Being an open-source platform, WooCommerce does require some coding knowledge.
Lacks support for site security, web hosting, and other things related to maintenance.
Add-ons can prove to be expensive for small businesses.
Now, that you have a brief idea about what each platform brings to the table, let's evaluate them based on different aspects related to eCommerce development.
Magento vs Shopify vs WooCommerce: Security
Security isn't an issue in Magento if you already have enough hosting services and developers. To help the merchants stay updated on security problems the platform keeps launching timely notifications and security patches.
Plus, a variety of Magento security extensions help strengthen passwords, scan altered files, vulnerabilities, block threats, and predict limits.
Using Shopify, one doesn't have to worry about being hacked or getting an SSL as it provides you with the best of security measures.
An SSL is called a secure sockets layer and it offers you everything you need to shield your website and confidential information from being hacked. To take care of this Shopify offers you a built-in SSL certificate. Every time someone visits your website they'll have a small padlock graphic near your URL, SSL makes sure of this.
This certificate also enhances security while processing payments and personal data for consumers. It also makes your consumers feel safe while accessing your website.
Your website can accept all credit card payments with the latest instructions as Shopify is a PCI-DSS compliant platform. Hence, you can accept debit and credit card payments from the go.
As WooCommerce is a self-hosted solution you will need to manage the security of your site using the same. To can surely get an SSL certificate by seeking help from a hosting provider.
Though WordPress is quite advanced with bug fixing and security. It has a team that constantly updates its code to eliminate security threats.
Magento vs Shopify vs WooCommerce: Usability
Magento Usability:
Magento isn't that easy to work with. The platform doesn't offer any on-site developers that can help you develop your website. You will have to hire a Magento development company that will also assist you with a hosting service to run your store.
You must know that Magento possesses a higher learning curve and if you opt for the same you should have knowledge about HTML, cloud hosting, and more.
Shopify Usability:
The platform already offers you the convenience of a workable online store. So you don't have to design a store from scratch but you can mold one as per your choice. Here are some of the perks of using Shopify.
If offers pre-made designs, hence one doesn't necessarily need to have design skills.
Your website will be operated on different devices such as tablets, mobiles, and desktops. Shopify offers responsive designs and hence will adapt well with all the devices.
It also offers the luxury of online payments. You can also sell your products to your Facebook contacts without having to deal with sensitive card data.
WooCommerce Usability:
Working with WooCommerce has the following pre-requisites.
Download WordPress and install a WordPress theme.
Get a domain name.
Sign-up for a hosting account.
You can install the WooCommerce plugin once your WordPress website once you've done the preceding. You can always hire WordPress developer that can handle these tasks for you. It can also assist you in the WooCommerce part and with digital marketing.
The installation and activation of the WooCommerce plugin will be followed by an on-screen setup wizard. Making use of the same one can set up the important parameters of their store and configure features and functionalities as per their need. For example, currency settings, shipping, payment gateways, and more are most important to an online eCommerce store. You can start adding items and using your added features once the installation is complete.
These were prominent points of comparison between the three platforms. Let's have a look at individual comparisons between two platforms to learn in-depth how these eCommerce platforms differ from each other.

Magento
Magento like WordPress is an open-source and free platform that you can install on your computer.
The platform offers many advanced features and is best suitable for experienced developers.
Magento is best at customizing features as per your requirement but it's trickier to use as one has to code these features. Something that Magento development service providers are experts at.
It offers ready-made themes while its custom themes require the expertise of a professional developer.
Out-of-the-box sales tools available on Magento can only be accessed while using expensive extensions.
Magento's highly depends on its marketplace for its marketing tools. For example, you would have to use extensions such as Remarkety to run email campaigns.
Shopify
Shopify is a hosted platform i.e. what information you offer is hosted by them. You have to pay a monthly fee for the same.
Shopify possesses a simple user interface and is more suitable for beginners.
Shopify is way more user-friendly than Magento.
Shopify offers huge yet budget-friendly themes which don't require coding skills for customization.
Shopify offers an impressive range of sales tools such as multichannel selling and more.
Shopify is a clear winner here. It offers stand-out marketing tools like the functionality to run emails through third-party integrations and a built-in feature to advertise on social media.
Magento vs WooCommerce:
Magento
Magento is an eCommerce platform designed for web development.
Magento offers two editions i.e. Magento Open Source and Magento Commerce. The prior offer basic eCommerce functions for free while the latter offers premium and out-of-the-box features that are chargeable.
Magento offers advanced security features while also releasing dedicated security patches from time to time.
eCommerce development with Magento is a bit complicated. One needs to learn basic coding and technical terms to use the platform to its highest potential.
Magento offers a wide range of paid and free extensions. They will help accelerate your business but would require Magento developers if you can't manage to install them on your own.
Magento is best for the long run if you want a mix of basic and advanced features at budget-friendly rates.
WooCommerce
WooCommerce is a WordPress plugin that offers all the features you require for creating an eCommerce website.
WooCommerce is completely free for use.
WooCommerce offers basic security features for a beginner-level store but is extremely costly if you want to inculcate advanced features.
As opposed to Magento, WooCommerce has a simple installation process. Even a non-technical person can set up an online store using WooCommerce.
WooCommerce also provides you with customizable and easy-to-use plugins. These plugins are way cheaper than Magento but also lack the high-end features provided by them.
WooCommerce is a great choice if you're just starting off with your new business and have budget constraints. Its drawback is it has limited capabilities and so isn't as scalable as Magento.
Shopify vs WooCommerce:
Shopify
Shopify is extremely easy to use for a regular user. And being a hosted platform it also takes care of a lot of technical areas related to creating an eCommerce store.
Shopify app development is available at budget-friendly with its basic plan starting at 29 USD/month. It also offers intermediate and advanced plans for 79 USD and 299 USD/month respectively.
You don't need to worry about backups, performance, compatibility issues, and security as Shopify is a fully hosted platform.
The platform has a good API and an App store from where one can purchase third-party add-ons for their stores.
Shopify is a hosted software. Hence it has total control over the platform and they're the ones who know the platform the best.
Shopify is the best choice if you quickly want to get your store live and start earning from the same.
WooCommerce
WooCommerce is open-source and gives you access to the best CMS in the world i.e. WordPress. It is highly customizable but also possesses a steep learning curve. One might require the need to hire a WooCommerce development company to make the best of it.
WooCommerce is a WordPress plugin and hence it's freely available. However, you will have to purchase a domain name, SSL certificate, and a hosting account to start a WooCommerce store.
As WooCommerce isn't a hosted platform you will have to take care of everything starting from installation to security.
As WooCommerce is built on top of WordPress it gives you access to 55,000 free plugins and other add-ons to enhance SEO, lead generation, and numerous other features.
Being one of the most popular eCommerce platforms, WooCommerce has u huge community support that you can seek help from.
WooCommerce is best suitable for users that have ample time and not looking for immediate sales.
Wrapping Up:
While comparing Magento vs Shopify vs Woocommerce it brings us to the end of this blog. We hope our read helped clear up a few things for you on the ever-rising Magento vs Shopify vs WooCommerce battle.
It's crystal clear from the statistics that we observed that eCommerce development holds a bright future for everyone. If you're keen on investing in the same but are puzzled about where to start you should definitely knock on our doors. We – Technource happens to be an eCommerce website development company that has been serving this industry for more than 9 years now.
If you wish to hire WooCommerce developers or try Shopify custom theme development we can help you with all aspects of eCommerce web development. Get in touch with us by signing up for a simple consultation form on our website. Thank you for reading.
Offices
USA
Delaware
+1 (302) 319-9825
Canada
Alberta
support@technource.com
USA
Delaware
+1 (302) 319-9825