---

Everything You Need to Know About Starting an App based On Demand Food Truck Business
---
Published on:
April 8, 2021
Updated on:
August 3, 2023
---
Introduction:
There have been various businesses that have flourished since the advent of the on-demand food marketplace. This includes the Cloud or Ghost Kitchens as well as the food truck business. Both the preceding businesses have gained significant recognition since the on-demand economy has observed substantial growth in terms of revenue and consumers. Here you will learn about on demand food truck app development.
The primary reason why the food truck business has experienced such success is because of the minimal investment it requires as compared to the traditional dine-in restaurants. This blog offers information on how one can go about starting their on-demand food truck business empowered by mobility solutions.
Overview: On-Demand Food Truck Business
A food truck is essentially a restaurant on wheels. It's an advanced, convenient, and budget-friendly way to start your food business. The above-mentioned perks benefit a user by not making them pay high taxes to enjoy their mouth-watering dishes. As you can observe in the following graph, the food truck industry has reached a whopping 996.2 million USD in 2020.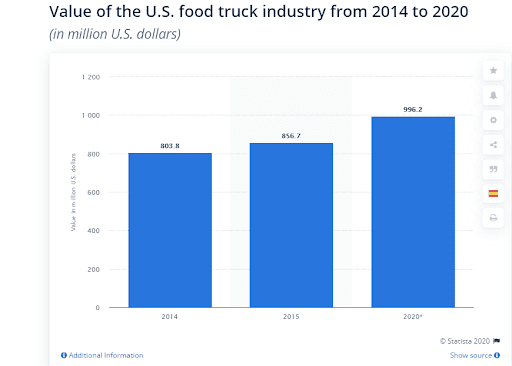 The food truck was valued at 1.2 billion USD in 2017 despite the problems faced due to bad weather and strict regulations. If you observe the current numbers there are about 4000 food trucks that operate in the US. The numbers do display the promising future of the online food truck business. Let's learn how to go about creating one.
Benefits of Developing a Food Truck Business

Starting a food truck business isn't just about decorating a truck with fancy stickers and bright colors, it requires the same brainstorming as any other business. As the business is related to food, even more care has to be taken so the consumers can enjoy their favorite cuisines that are made using high-quality standards.
The minimal risk and investment involved in developing a food truck business are some of the biggest perks why entrepreneurs are investing in the food truck business. Let's have a look at some of the other prominent benefits of this business.

Minimal Risk:
To start a traditional restaurant one needs additional investments in real estate, interior infrastructure and design, in-house staff, managers, chefs, and so many other things that would create a decent restaurant.
Many of the above-mentioned pre-requisites are not required when you want to create a food truck business. Hence, investing the same involves minimal risks with a possibility of high ROIs.

Budget-Friendly:
As we learned above that the food truck business doesn't possess too many pre-requisites. So, there is an evident decrease in the budget you would require to start one.

Meals on Wheels:
What if you observe that a particular area could offer you high business during certain hours of the day? With a traditional restaurant, you can't move around. This also decreases the need to have hoardings and billboards as a moving food truck can anyway market itself well.
Things to Check Before Creating a Food Truck Business:

As the food business world is experiencing much competition already, you must learn the best practices before you start with your venture. Here are some of the essentials that will account for a successful food delivery business.

Choosing the Right Vehicle:
You should choose your vehicle depending on the scale and number of users that you're targeting. But no matter what vehicle you choose, either a truck or a cart, it should be customized in a way that serves your purpose. If you search for it you'll find numerous vehicles of different sizes and shapes.
You can invest in a new truck or customize an old truck depending on your requirement. The only thing you need to take care of is creating a food delivery vehicle that grabs the attention of your consumers.

Target your Locations:
Once you have your business vehicle, it's time you analyze the areas that would earn you the highest of business. For this, you would need to research the areas that receive the maximum orders for the type of cuisine you're trying to offer in your menu.
As you have a mobile food truck you can select 3-4 different areas that you can target. Remember, choosing the right location would prove to be vital for your business. It will offer you instant word-of-mouth publicity.

Raw Material & Kitchen Equipment:
Any kitchen you create would need these two things to function. The first being the raw material they use to cook and the equipment that they need to cook food from the raw materials.
To finalize the equipment, one needs to make a list of the cuisines they want to offer to their consumers. Once you finalize the same, then the pieces of equipment needed to cook those cuisines can be purchased.

Licenses:
It would be a suicide attempt from a business perspective if you don't procure all the licenses needed to start a food business. Different countries have different laws governing the food business. If you want your business to run without any hindrance from legal perspectives then you must research and acquire all the necessary permissions and licenses.

Develop an On-Demand App:
There is an evident increase in the number of smartphone users that has propelled the growth of web and
mobile application development
all over the globe. To reach your consumers instantly and add to your recognition, you must invest in creating an on-demand application for your food truck.
Offers a lot of convenience to your users.
Facilitates digital payments.
Increases your restaurant's reach.
Anytime-Anywhere accessibility.
Real-time order tracking.

Wrapping Up:
We hope that our blog gave you an initiation into how the food truck business is flourishing all over the globe. This trend is expected to reach new heights in the future. If you are highly motivated to either create an on-demand food truck business or want to equip your current business with digital solutions, you should get in touch with us right away. How did you ask? It's simple, just sign-up for a free consultation form on our website, and one of our experts will get back to you in no time. Thank you for reading!
Offices
USA
Delaware
+1 (302) 319-9825
Canada
Alberta
support@technource.com
USA
Delaware
+1 (302) 319-9825