---

How Much Does It Cost To Develop A Custom WordPress Website?
---
Published on:
April 15, 2021
Updated on:
June 30, 2023
---
Introduction:
At the start of 2021, no one knew or predicted that their life was about to change both professionally and personally. The lockdown due to the pandemic crisis has been tough on people. Businesses all over the globe have been hit hard with many failing to survive the challenging times. Are you among those who have observed these difficulties but have managed to survive somehow? Are you looking for a solution that would help your business increase its reach and revenue in these tough times? Then you've surely come to the right place.
You are surely aware that the internet is the only thing that connects even remote places and gives them the same opportunity that was once available to people living in urban cities. To find a permanent fix to your problem you can invest in developing a custom website for your business.
We as a web and mobile app development company, know that there are many underlying myths that surround the concept of website development. The foremost being that website creation is a costly affair. Let me break this one myth and tell you that this is so not the case. It depends on the technology or platforms you choose for developing your website.
While developing a website using PHP, MERN, or MEAN tech stack can prove to be costly, it can be done using minimal investment using platforms such as WordPress. While the existing notion in people's minds is that creating a website has a lot to do with writing complex code, working with WordPress can surely bring a perceptive change in the same. Using WordPress one can learn that creating a website is not rocket science but a play of logic and extensive research.
What is WordPress?
If you aren't aware, WordPress is a Content Management System that was initially introduced to help bloggers and webmasters manage their content online. This was the first version introduced to the world on May 27, 2003. Since then there has been no looking back for the platform. It has become the most well-known CMS on the planet.
While there are numerous ways to go about creating your website you would be shocked to learn that a total of 63.5% of the total websites on the internet have been developed using a Content Management System (CMS). But what's even more interesting is that 37.5% of them are developed with WordPress.
This blog offers insights on the cost to build a WordPress website. Read on till the end to know all about the same.
Let's start this learning by knowing more about how WordPress works for different types of websites.
Overview: WordPress & Offered Services
WordPress is open-source software that has been coded using PHP. In simpler words, it's free to use for everyone. Though if you want to create a Custom Website using WordPress you would have to pay for the same.
One of the biggest perks of using WordPress is that you don't have to be a skilled coder to create a website by yourself. Some numerous plugins and templates help you develop highly functional and attractive websites. We as an IT service company believe that WordPress is one of the easiest to learn, implement, and update platforms to manage your blogs, eCommerce portal, or any other website.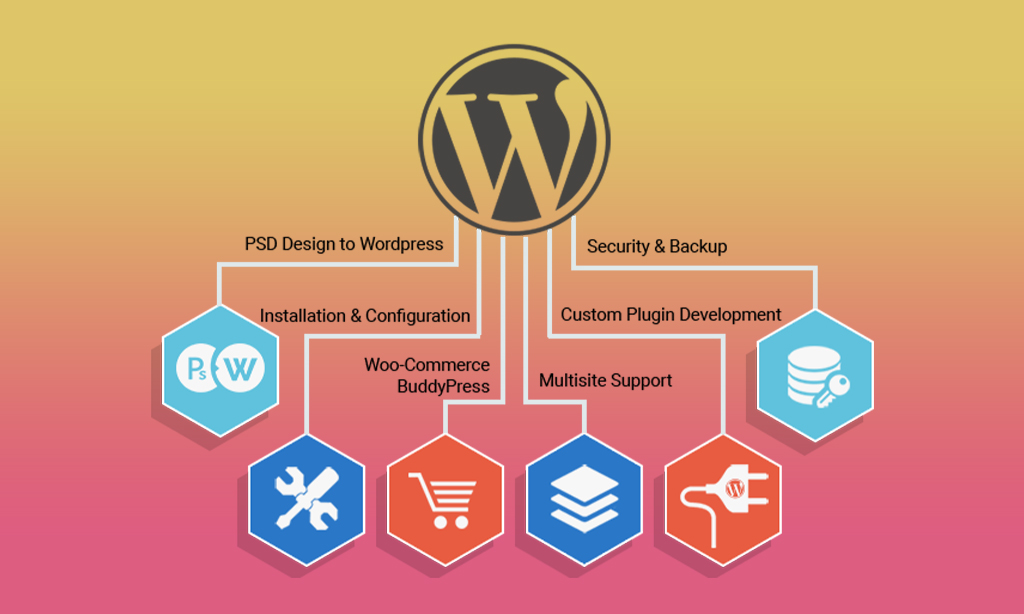 List of all the websites that you can develop using WordPress.
No matter what business industry you belong to, you would surely need a website as it has become the need of the hour. If you own a small-scale business you can develop a website with basic functionalities listing the services you provide. If you already have an established business and consumer base you can opt for a fully functional website with advanced features. For this, you would have to opt for custom WordPress development.
If you're looking for an eCommerce solution for your brick-and-mortar store you can try the WooCommerce plugin offered by WordPress. Using WooCommerce you can add as many products as you like, create relevant product categories, advanced search features with filters, online payment gateways, check-out features, and much more. Having a website can boost your business productivity and publicity.
You would be amazed to know that 3 out of 5 blogs created on the internet are powered by WordPress. The platform offers premium features that help users develop blogs that cater to both professional and personal use.
Many talented artists master different crafts and talents. So, if you're a tattoo artist, a photographer, or a painter, WordPress can be the platform that helps you display all your work in one place.
WordPress can also be used to create complex web solutions such as eLearning portals. Online learning platforms are on the rise and you can leverage special plugins like WordPress LMS to inculcate relevant features into your website.
You might've observed many online platforms that offer their niche services, products, or knowledge to their paid members. If you possess any of the preceding, you can try offering the same making use of WordPress. The platform is extremely efficient in handling website traffic and has plugins that offer an engaging user experience and apt performance.
Benefits of Using WordPress for your Business:
WordPress offers countless benefits when it comes to creating custom websites. You can share your business ideas with a WordPress web development company and find optimized solutions to boost your productivity in terms of consumers and revenue.
By investing in the preceding, you can
hire dedicated WordPress developers
that have sound knowledge of how to use the plugins, themes, and functionalities offered by the platform.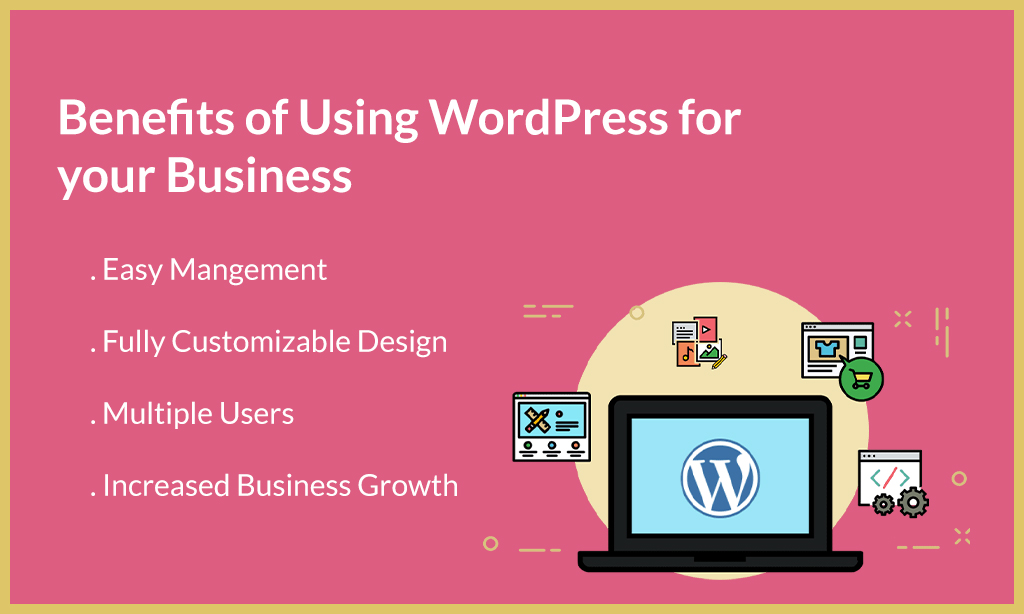 Some of the best-known benefits offered by WordPress.
The platform WordPress.org is free to use for everyone. All you need is a domain name and hosting service to get you started with your website.
If you even possess basic programming knowledge or the will to learn, you can develop a WordPress website all by yourself. The software is designed intuitively and so becomes easy to learn.
Whether you want to create an eCommerce portal, eLearning, or a portfolio website, everything can be developed using the advanced functionalities offered by the platform.
WordPress is a globally recognized CMS, hence it has a large community of developers that you can seek assistance from. With a large community of developers, you have myriad choices on who you want to hire for working on your project. If you aren't satisfied with the services you are receiving, you can easily switch to other companies to get better services.
One of the other contributing reasons for WordPress's success is the extensive plugins that they offer. Some of the prominent plugins include WooCommerce for eCommerce development, WordPress LMS, and Yoast for SEO. You can download these from the plugin directory and use them at your convenience.
A website can be extremely attractive or boring to look at, it depends on the theme you use for the same. WordPress has attractive and customizable themes that offer designs that are in congruence with the type of business or services you're trying to promote. These themes can easily be accessed using the drag and drop options while not having to mingle too much with the code.
WordPress Website Development: Cost Structure
We learned above that you can create free websites using WordPress. Then what does it charge its clients for? WordPress charges its clients for developing custom websites. These costs are divided into several services that one requires to run a website. Here is the list of the same.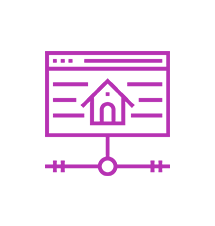 Domain Name:
A domain name is what your consumers would use to access your website. For example, facebook.com, yahoo.com, and the likes are termed domain names. Acquiring a domain name would cost you anywhere between 10 to 30 USD every year. Various known websites such as Bigrock.co, GoDaddy, Namecheap, etc, are online places from where you can purchase your domain name.
Purchasing a domain name is what you should opt for as opposed to using a free domain name offered by WordPress. Buying a domain name for your business inculcates a strong feeling of trust among your users. It portrays the seriousness of your intention and defines the authenticity of purpose. As user information is extremely confidential you should purchase your domain name from a trustworthy site.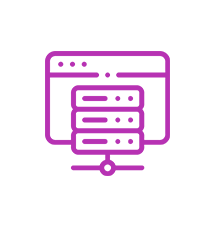 Web Hosting:
As the name suggests, this service acts as a host for your website. It's a prime necessity to pay for web hosting services as it will be the home for your website. There are 3 basic hosting services that you can choose from:
Dedicated hosting
Shared hosting &
VPS hosting
Depending on what you choose you will be charged anywhere between 30 to 900 USD annually. WordPress also offers a hosting service but costs a bit more than other providers.
Are you confused about which hosting service is the best for your business?
If you have an established business with a huge clientele then you should surely opt for dedicated hosting. It can prove to be costly but would handle your website traffic with utmost efficiency.
If you own a small-scale business, you can choose shared hosting. But remember this would only work well if your website has less traffic.
VPS is the abbreviation for Virtual Posting Services and is preferred by many businesses as a middle way. This hosting offers more security and reliability than shared hosting but not as efficient as dedicated hosting services. If your website has moderate traffic, then and only then VPS hosting would work best for you.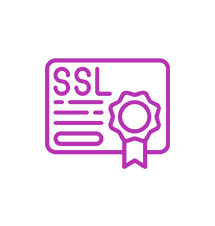 SSL Certificates:
SSL certificates play an important role in enhancing the security of your website. In order to keep your information safe, they assign a digital cryptographic key to all your details. Users also look for SSL certification on the websites they visit. Having an SSL certificate can cost you anywhere between 50 to 200 USD per annum.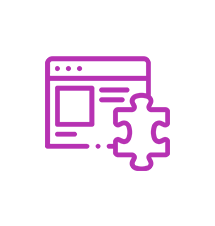 Plugins:
Plugins are extremely essential when it comes to inculcating additional functionalities or expanding the current ones for your platform. There are a few free plugins that are offered by WordPress while most others have to be paid for. Depending on the plugin you choose it can cost you anywhere between 400 to 1500 USD.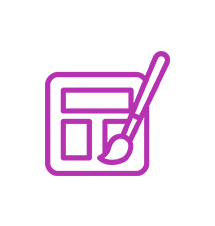 Theme:
There are many free templates and themes on WordPress that you can use for your website. Yet, if you're looking for
custom WordPress development
you should go with paid themes. The cost for the same can at times reach 50,000 USD depending on the theme you choose.
If you have a website with less traffic, you can opt for a free theme. But if your website receives high traffic you should use paid themes and templates as they offer your website a unique design, offer responsive web and mobile functionality, and don't have compatibility issues. You also need to choose a theme that bodes well with your business requirement. For instance, you can try the WooCommerce themes if you want to create an eCommerce website.
The above-mentioned list does mention the individual costs for accessing each service. But you might still be wondering how much does it cost to build a WordPress website? Well, here's your answer along with a formula on how you can calculate it.
Custom WordPress Website Development Cost:
Developing a custom WordPress website with basic features and functionalities starts from 1000 USD. While a fully functional website with advanced features can cost anywhere up to 50,000 USD.
WordPress Website Cost Calculation Formula:
The cost of creating a website is dependent on the hourly development rate that is charged by the WordPress development company you choose.
WordPress Website Development Cost = Hourly Rate (for developing required features) * Total Number of Hours + Additional Services Costs (Themes, Plugins, Hosting, Domain Name, etc.)
Total WordPress Website Development Cost:
There is 'n' number of factors that can affect your WordPress website development cost. But the time taken by your
website development company
to go develop your required features is extremely essential to your costing. But if we include all the above-mentioned services along with the development time taken to develop your requested features, then your total costing can range anywhere between 1000 USD to 55,000 USD. Yet, the total cost can exactly be calculated only when a company learns all your requirements in terms of themes, plugins, and features that you want for your website.
Recap:
In this blog, we learned all about what WordPress is, the benefits it provides, and the services that you have to pay for to develop custom websites. Here's a highlight of the same.
WordPress is the most used CMS on the planet and can be used to develop business websites, eCommerce & eLearning portals, portfolios, blogs, etc
WordPress is an easy-to-use, versatile, and secure platform with a large community of developers.
The website development cost using WordPress can range anywhere between 1000 USD to 55,000 USD.
Today, some of the most successful websites are developed using this CMS. WordPress offers the perfect combination of services for small, medium, and large-scale businesses. It wouldn't be wrong to say that websites created using WordPress are scalable and secure.
One can make efficient use of the themes and plugins and develop websites that are in congruence with their business type and requirements. Depending on your business's requirements you can create a website for free or you can customize features as per your vision and pay for the same.
We – Technource is a web and mobile app development service our clients around the globe for 8+ years. WordPress Web Development is powering a huge chunk of websites on the internet. An investment in increasing your digital footprint is an investment into the future. Let's discuss more the same over a call. You can get in touch with us for any queries by signing up for a simple free consultation form on our company website. Thank you for reading!
Offices
USA
Delaware
+1 (302) 319-9825
Canada
Alberta
support@technource.com
USA
Delaware
+1 (302) 319-9825