---

Top On-Demand Food Ordering App & On Demand Delivery App Business Ideas for 2021
---
Published on:
December 12, 2020
---
Introduction: Online food delivery business
Creating an on-demand or online food delivery business out of scratch can be an intimidating venture. One has to invest a healthy sum worth 30, 000 USD to 50, 000 USD, which is not possible for every start-up trying to make its way to the market. However, it's not an impossible feat to achieve. Almost all the big names we see in the on-demand food delivery sector have had humble beginnings.
This blog will guide you on the top 5 on-demand food delivery ideas that hold the potential of generating great ROIs in 2021 and how creating a Minimal Viable Product (MVP) can work best for your start-up.
A Glimpse of the Online Food Delivery Market
The online food delivery market is an old business domain that was an unaffordable desire for many of the brick-and-mortar restaurants. The advent of on-demand applications bridged this gap and offered every business, however small, a chance to reach its consumers. The luxury that was first enjoyed by pizza chains and certain high-end restaurants was now available to everyone.
The on-demand food delivery business models have attracted many entrepreneurs and investors over the years. The industry experienced an exponential high in revenue in 2017. A business sector that generated 4, 807 million USD in 2017, experienced a significant rise to 10, 916 million USD in 2020. And it's predicted to generate 14, 670 million USD in revenue by 2024. It seldom happens that a business market as old as food delivery still holds so much unexplored business potential.
Here are some interesting statistics from 'Business Wire' that would offer a clearer perspective on the subject.
The online on-demand food delivery market is expected to grow at a CAGR rate of 29.4% throughout 2020-27.
The world's most noteworthy nations are predicted to grow at the following CAGR over the preceding forecasted period.
China: 28.6%
Japan: 26.1%
Canada: 25.3%
Europe: 20.6%
Germany: 20.6%
The most prominent competitors in the Online Food Delivery business include
Deliveroo
Delivery Hero SE
Swiggy
Postmates
GrubHub Inc.
DoorDash Inc.
Uber Eats
If you're still skeptical about investing in the on-demand food delivery market the following figures would be worth your time.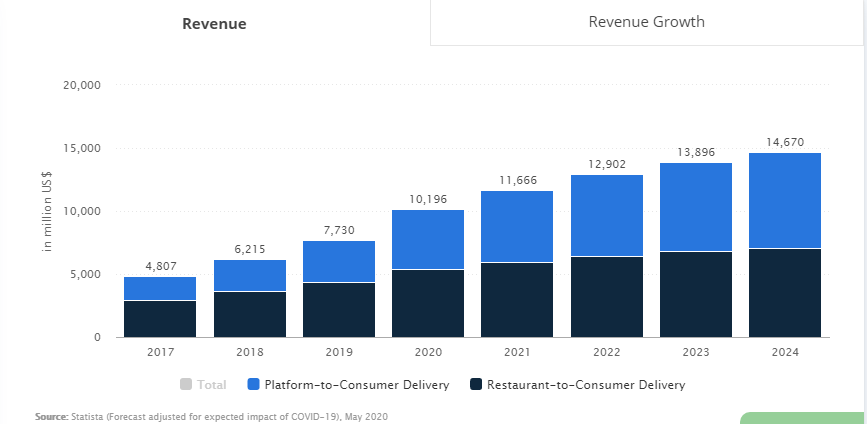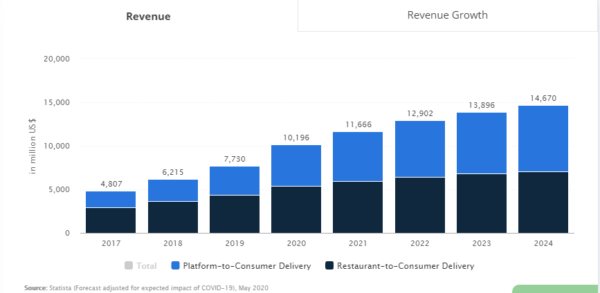 Summarizing the preceding section we learn that the market is sturdy and filled with new opportunities for you to step in. The already established players of the game have already covered the large online food ordering and delivery spectrum. We understand that your next question would be "What underlying on-demand food ordering and delivery business opportunities should you be looking out for?"
Top 5 On-Demand Food Ordering and On-Demand Delivery App Business Ideas for 2021:
1) Online Catering Booking Services
Since COVID has affected almost all of the world, social gatherings and parties have also seen a decrease in overall number. But the times have improved as compared to prior months of the year 2020. Now, the world seems to be getting back on track and have started restoring their lives with their conventional ways of celebrations.
From small to large events the catering services are a basic requirement for any. Catering businesses have started offering their services online. One can analyze, review, and select their favorite restaurants and caterers. These services offer choices ranging from their favorite linens to essential service personnel.
2) On-Demand Frozen Food Delivery
The online frozen food delivery market has gained traction over the past few years. The market is expected to generate 380 billion USD in revenue by the year 2027. There are many countries where the demand for frozen food products is supreme. The millennials are heavily inclined to food products that can be availed of and used instantly.
The Asian, European, and Middle-eastern countries hold a large demand for frozen foods. This area of investment is lesser-known to entrepreneurs and investors hence it remains unexplored and unheard of. The major food markets in the frozen food sector are:
Potatoes
Vegetables
Ready meals
Frozen seafood
The above-mentioned items are some of the most prominent ones. Apart from these, healthy revenue can be generated from egg-free, gluten-free, nut-free, low salt, low calorie, and low-fat food items.
3) On-Demand Organic & Nutrient Rich Food Delivery
There is an evident increase in the percentage of people who've started investing in their health consciously. It's a fact that home-cooked meals with precision are the best way to go for these people. But the fast-paced life has its challenges and time-poor individuals face the problem of maintaining their diet regime.
To meet such demands some of the food apps have captured this niche. They offer options to choose from organic and nutrient-rich food items. Also, they cater to healthy meal plans with an exclusive option for nutritionally rich foods. They have a separate section for food items based on their nutritive content in protein, vitamins, and carbohydrates. These apps are also providing satisfactory services to their targeted niches and earning a healthy chunk out of it.
4) Grocery & Dairy Delivery
The most demanded food products of any home are groceries and dairy products. These are everyday products that are needed invariably. Right from your milk can to your pack of chips these apps provide everything you need right at your doorsteps.
Apps like BigBasket, Milkbasket, and Morningcart are prominent players in this market. BigBasket offers almost all the household items along with many other things like stationery, and kitchen wares. You can provide your products at competitive prices along with free home service.
5) Corporate Food Delivery
This is one of the new and rising food markets. No matter what the outside situation, offices, and institutes always have people working for them. If you calculate the number of individuals in need of such a service in any given city, I am sure the number would be bankable.
People working in such places always face the problem of having decent meals at the right time. You can solve their problem for good just as BigBasket did with grocery delivery. Your on-demand service can be a savior for them. Providing service to such companies can prove beneficial for you in so many ways and the first is the disciplined timeline you can maintain. Offices and institutes always function during some dedicated hours of the day. Hence, you can design a system that caters to a large group of individuals for limited hours of a day.
Above we learned about futuristic on-demand food delivery and ordering ideas. But it's one thing to have an idea and another to transform it into a reality. So what goes into it? It requires systematic planning and division of the resources for you to obtain the best possible analysis of the market you're about to step in. This is only possible if you go for a Minimal Viable Product (MVP) creation. Let's gain an insight on the same.

Minimal Viable Product (MVP App Development)
Many myths surround MVP development. The most common one being that MVPs are created to check the robustness of the application – which is a myth. An MVP is primarily created to check the waters, to learn if the whole product should be created or not?
Imagine a situation where you invest your hard-earned money into an app and that app fails. That would be such a waste of your money and the resources you've invested in. Hence, we must learn from the proverb "slow and steady wins the race".
An MVP is a collection of your app's core features that can help you analyze your product and how your niche responds to it. It helps you collect real-time data of users experiencing your app, and offering their truest reviews about it. This helps an investor learn the difference between their predictions about the app and the user's actual response.
It's always advisable to not put all your eggs in one basket and MVP is a practical example of the same. If you're a start-up and are too conscious about how to invest in your dream app idea then an MVP is the way forward for you. It will help you channel your investments and returns in the right proportions.


Key Takeaways for On-Demand Food Ordering Business App idea
In this blog, we learned about what potential the on-demand food delivery and ordering market hold in the coming years, unique food ordering and delivery app ideas, and the importance of creating an app using an MVP.
MVP creation is the safest way to chase your dream app idea without losing all your money. Some of the most successful apps today started their venture with an MVP and saw an exponential rise in ROIs thereafter.
Technource – a professional IT service company in India is an expert in creating on-demand web and mobile apps. We hold considerable experience in
on-demand app development
which makes us competent to take on any challenge you throw our way. We also recommend our clients opt for an MVP to explore the on-demand app market safely and steadily. You can request a free consultation and we'd be happy to assist you with all your technical affairs.
Offices
USA
Delaware
+1 (302) 319-9825
Canada
Alberta
support@technource.com
USA
Delaware
+1 (302) 319-9825